Increase the success of your Free Sticker Program by adding a Tile Wall to the fundraiser! Not only do you receive the benefit of the Free Sticker Program but families may purchase a ceramic school tile of their child's artwork for display at the  school! An indoor tile wall mural is a perfect way to create a legacy and beautify your school! Our tiles are not kiln fired and not appropriate for outdoor installation.
How It Works:
Create the Artwork
Coordinator chooses the tile wall style you would like for your school when you make your reservation: 54B, bleed to the edge color, or 54W, white border. Tiles are 4.25″x"4.25″.  (6″x6″ tiles are available by special request, but only available in bleed to the edge color.)
Create artwork on the FREE art paper provided in your Toolbox. Lesson plans provided.
Label & organize art by class in the folders provided.
Ship art FREE to Square 1 Art (UPS label provided).
We create Custom Catalogs featuring each student's masterpiece and name on the cover! Every child wins with FREE stickers of their own artwork. Original artwork is returned (may ship separately from catalogs).
It's Time to Order!
Distribute Custom Catalogs printed with your order deadline.
Families will be given the option to purchase a school tile wall tile of their child's art at checkout. All tile wall tiles ship to the school.
Promote your fundraiser with poster(s), family marketing emails  and marketing materials provided in Coordinator's Corner, including flyers for print out, and social media images.
Prices range from $5 to $60 to meet all budgets.
Two easy order options: online or phone.
Families pay a ship fee at checkout and their order ships to the home to arrive 2-3 weeks after order date.
School Tile Wall Tiles Arrive!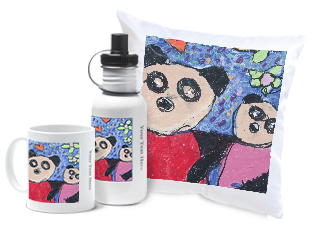 School Tiles ship separately to your school and may arrive after your fundraiser is completed.
If you need a specific arrival date for your school tiles, just let us know.
Your FUNDS arrive!
Profit check and statement are mailed shortly after your fundraiser completes.
Earn 20% to 38% of your total sales*.  Click below to find out how!
>> Learn about  our Traditional Free Sticker,  Great Wall of Art, or Virtual Programs
> Click here to view keepsakes
*Conditions apply.